Eliminates all concerns about pre-owned laptops
Renewed products with
3-year warranty
Extended warranty
We know that quality and functionality is crucial for most of us when buying tech. That's why we refurbish used laptops from well-known brands, turning them into premium devices, and deliver them with the same warranty and service that your customers expect from brand-new equipment.

Offer your customers more sustainable choices that reduces hardware waste and minimize emissions. It's all about fostering a more sustainable future, one device at a time, without compromise.
As good as new
With Teqcycle you will find how renewed laptops are a great advantage for you, whether you're a reseller, business, public organization, or end-user.
We are a firm believer that premium quality makes the difference. That is why we have perfected renewing laptops and strive to keep the standard at the highest possible level in every aspect of our business. We ensure high device performance through a careful refurbishing process, with thorough minds and hands. In addition to a top-performing machine, we repaint all our Teqcycle laptops to secure the best box-fresh feeling.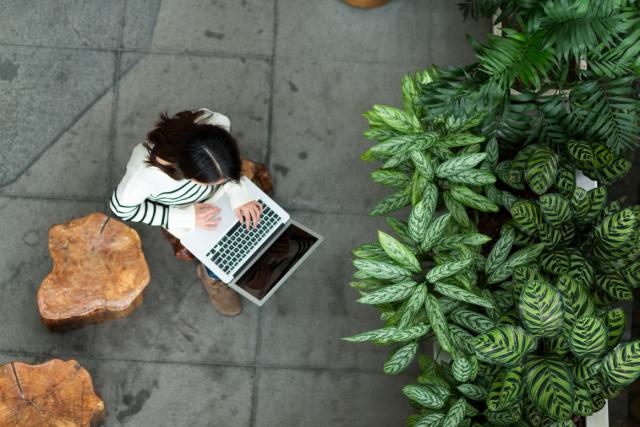 Reduce CO2 footprint significantly
The production of a new laptop and transportation to the consumer causes 265 kg CO2-eq emissions. By comparison, the process of retrieving a used laptop, renewing it, and transporting it to the consumer only causes 6.65 kg CO2-eq emissions, of which the main source of emissions comes from the production of brand-new parts which are used to refurbish the used laptop. In other words, you will avoid 258 kg CO2-eq worth of emissions by choosing a Teqcycle renewed laptop.

Longer lasting tech for a brighter future!
Want to know more about Teqcycle? If you´d like to start a conversation about using sustainable IT for your
business or organisation, please contact us today.
Get in touch
Why choose Teqcycle for your business
With our premium-quality Teqcycle laptops you get a winwin situation for both your business' financial and sustainability efforts. You reduce hardware waste, minimize emissions and make better financial choices, without having to lower expectations on performance.
Save money by purchasing renewed laptops at a lower price compared to new ones and add a positive contributor to your ESG score. Renewed tech is the future of effective operations.
We offer:
A standardized product line of premium products easy to order, again and again
High quality products engineered back to perfection, with 3-years warranty
Complete reports on your business' environmental savings to include in your ESG-reporting
Why choose Teqcycle
as a reseller?
As a reseller you will benefit in many ways by choosing to expand your product range with renewed, premium Teqcycle devices. You will not only be able to offer a more sustainable choice for your customers, but also gain easily sellable products with consistent quality, continuous supply and 3-year warranty.
We offer:
A standardized product line of premium products easy to order, again and again
A personal account manager for close follow-up and service
Customized offerings (ex. Special builds, localization adaptions and global logistics)
Through our webshop you can purchase the laptops in bulk or on demand, depending on your needs. Teqcycle laptops are premium quality that matters. For you, your customers and the environment. Let us kick-start something great. Dive into our Teqcycle laptops selection here.
Why choose Teqcycle
for your public organization?
When you are ready to upgrade your laptops, make sure to get the best quality, for a lower price and at the same time spare the planet for CO2 emissions. By choosing to buy renewed Teqcycle laptops you will get a product as good as new – and with a 3-years warranty!
We offer:
A standardized product line of premium laptops that are easy to order, again and again
High quality products renewed to perfect conditions, with 3-years warranty
Complete reports on your organizations' environmental savings to include in your ESG-reporting